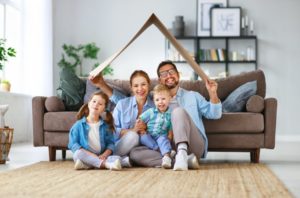 The best way to keep yourself and your family safe from the COVID-19 pandemic is to stay at home. To entertain themselves during quarantine, many people are trying new, productive activities like making bread and learning dance moves. If you're looking for a good way to pass the time while social distancing, why not start establishing some easy routines that you can benefit from for the rest of your life? These seven healthy habits from your Carrollton dentist can help you improve the quality of your life during quarantine as well as long after.
1.) Clean Your Smile Thoroughly
Are you spending enough time taking care of your oral health every day? Now is a great time to make sure your daily dental routine includes:
Brushing your teeth and gums gently for two minutes twice a day.
Flossing all your teeth and rinsing with mouthwash for 60 seconds daily.
2.) Practice Flossing Properly
Take a little bit of time to brush up on your flossing technique. Look up videos and diagrams from the American Dental Association to make sure you're cleaning between your teeth effectively.
3.) Choose Smile-Friendly Snacks
Instead of snacking on sugary treats that cause cavities, try eating more:
Dairy products and lean proteins to strengthen your teeth and jawbone.
Fruits, vegetables, and berries with vitamin C to promote healthy gum tissue.
4.) Drink Plenty of Water Daily
Staying hydrated keeps your immune system healthy and lowers risk of tooth decay. Remind yourself to drink water throughout the day by writing yourself notes, setting alarms, or making a game out of it.
5.) Keep a Regular Sleep Schedule
Getting enough quality sleep every night is essential to your oral, overall, and emotional health. Help yourself follow a sleep routine by:
Going to sleep and waking up at the same time every day.
"Unplugging" from electrical devices at least 30 minutes before bed.
6.) Exercise at Home Every Day
There are plenty of ways you can stay active at home without a gym membership! Every day, aim for 30 minutes of physical activity like cleaning, dancing, playing with pets, or trying online workout classes.
7.) Manage COVID-19 Stress
It's completely normal to feel anxious or worried during the COVID-19 pandemic. You can use this as an opportunity to practice managing stress with a few helpful tips from the Centers for Disease Control and Prevention, like:
Getting adequate amounts of nutrition, sleep, and exercise every day.
Limiting the amount of information about the pandemic you expose yourself to.
Staying connected with friends, family, and loved ones and sharing your thoughts and feelings.
You can use this extra time at home while social distancing to improve your lifestyle in small, yet meaningful and effective, ways. Stay happy and healthy during the COVID-19 quarantine as well as long afterwards with these seven healthy habits from your Carrollton dentist!
About the Author
At LuxSmile Family Dentistry, the safety of our patients, staff, and the community of Carrollton, TX is our number one concern. In compliance with recommendations from the American Dental Association, Dr. Tammy Ton has made the difficult decision to postpone non-urgent dental appointments until further notice. However, she and her dedicated staff are meeting the highest standards of sanitation and infection control to keep their practice clean and germ-free. Should you need emergency dental care, don't hesitate to contact her via her website or at (972) 698-5988.