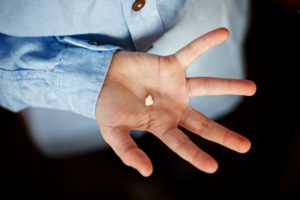 No one wants to think about having a permanent tooth knocked out. However, it's essential that you know how to handle this scary situation just in case you need to save your smile. Acting quickly and correctly can make all the difference in whether the tooth can be reattached or not. Here's a step-by-step guide from your Carrollton emergency dentist that explains what you should do if you find yourself with a knocked-out permanent tooth.
Step 1: Find Your Knocked-Out Tooth
It may seem obvious, but you'll need to find your knocked-out tooth as quickly as possible if you want to reattach it. When you locate it, only handle it by the crown (the chewing surface of the tooth) and be careful to avoid touching its roots.
Step 2: Call Your Emergency Dentist
In any dental emergency, you should call your dentist as soon as you can. Explain to them in as much detail as possible the condition of your mouth and knocked-out tooth. Since the chance of successful reattachment diminishes significantly after 30 minutes, they'll most likely instruct you to come in right away. Be sure to listen to their first-aid instructions carefully.
Step 3: Carefully Clean Your Tooth If Needed
You can gently rinse your tooth off if it's dirty, but don't scrub away any lingering pieces of tissue. Use saline solution, water, or milk to clean it off, but don't disinfect it with soap or chemicals. These can damage the tooth's roots and reduce the likelihood that it can be reattached.
Step 4: Store the Tooth Somewhere Safe
The best place to keep your knocked-out tooth is in your mouth. You can carefully try placing it back in its socket and holding it in place by biting down gently. Alternatively, you can keep your tooth between your gums and cheek. If neither of these options are possible, keep it in a container of milk or saliva. While the aim is to keep it moist, never soak your tooth in plain water or else the cells on the surface of your tooth's roots may burst.
Step 5: Managing Discomfort
If you are experiencing bleeding in your mouth, you can control it by applying pressure with a sterile gauze or cloth. To ease swelling and discomfort, rinse with lukewarm saltwater and numb the area with a cold compress or ice pack. If you're in pain, you can take acetaminophen (Panadol, Tylenol) or ibuprofen (Advil, Motrin, Nuprin) as directed.
Step 6: Visit Your Dentist or Emergency Room Within 30 Minutes
Remember, time is of the essence when it comes to saving a knocked-out tooth. Stay calm and seek emergency dental care within 30 minutes of your tooth being knocked out. Waiting any longer than that significantly lowers your chances of saving the tooth. If it's after your dentist's business hours, go directly to your local emergency room.
Hopefully, all your teeth will stay securely in place throughout your life. However, don't panic if you find yourself with a knocked-out permanent tooth! Remember these important steps and you'll be enjoying your healthy and complete smile again in no time.
About the Practice
At LuxSmile Family Dentistry in Carrolton, TX, we strive to see each dental emergency as soon as possible, often within hours of when it happened. In addition to same-day emergency appointments, we also offer evening and Saturday hours to ensure you can always get the care you need as soon as you need it. Dr. Tammy Ton has years of experience handling dental emergencies as quickly, effectively, and comfortably as possible. If you or a loved one is experiencing a dental emergency, don't hesitate to contact her via her website or at (972) 698-5988.