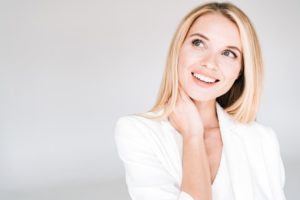 You may have heard or used the phrase, "new year new me!" Maybe you've even considered adding a smile you can be proud of to your list of new year's resolutions. If that's the case, you're not alone. Millions of people receive cosmetic, teeth-transforming treatment every year, and this time, you can be on that list! Keep reading to hear about what your Carrollton dentist has to share about the options that can give you the smile you've always dreamed of.
How to Have the Smile of Your Dreams
If you are among the millions who wish they felt more comfortable smiling for pictures or laughing around family and friends, you don't have to give up hope. Many people choose to live with bruised-self confidence due to flawed teeth simply because they assume they don't have the time or resources for cosmetic dentistry. The truth is, it's more simple that you may think, and here are some of the non-invasive, affordable treatments that may work for you:
Teeth Whitening
Stained or yellowed teeth is one of the most common reasons why many people say they aren't pleased with their smiles. The great news is, it is also one of the easiest cosmetic treatments you can receive. You may have become frustrated by trying over-the-counter treatments in the past that not only took forever, but never seemed to give you the results you were hoping for. Your dentist uses state-of-the-art whitening technology that can lighten your teeth by multiple shades within the hour. If you're looking for a more subtle transformation, they also offer professional take-home treatment that is guaranteed to work.
Dental Bonding
Many people have minor flaws such as stains that are too dark to be corrected by whitening or small cracks and chips in one or more teeth. You've probably heard about veneers and how they can be successful in treating this issues, however, dental bonding is another treatment you may not have considered. Instead of altering your natural teeth, your dentist will simply fill in any flaws with an enamel-colored resin that essentially becomes one with your teeth. Not only can treatment be completed in one visit, but it's also much more affordable than veneer!
Professional Cleaning
This is one that a lot of people don't take seriously enough, but seeing your dentist regularly throughout the calendar year to have your teeth professionally cleaned is very important. They have tools and materials to deep-clean your teeth and gums in a way that your toothbrush can't quite do. This can prevent plaque build-up and gum disease so that you can continue to have a healthy smile for years to come!
Regular Oral Hygiene
This is probably the easiest and most affordable way of all to maintain a beautiful smile. Even if you do choose to have other cosmetic work done, it's important that you protect your investment by flossing and brushing your teeth every day to prevent decay and periodontal disease.
Regardless of your dental cosmetic needs, there are plenty of opportunities out there to choose from. Talk to your dentist and let them help you choose the best option for your smile.
About the Author
Dr. Tammy Ton knows the importance of maintaining self-confidence and overall health, and this is why she has dedicated her life to ensuring that each of her patients has the smiles they've always wanted. She is also committed to life-long learning through continuing education. Her practice is built on trust and the relationships she has with everyone she cares for. Are you ready to have the smile of your dreams? Schedule a consultation online or call (972) 698-5988.