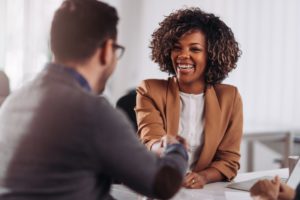 Like your eyes have been called the "windows to your soul," your smile speaks volumes about your personality, your confidence, level, and believe it or not, your ability to succeed in life. It is an extremely powerful tool, and if you wield it wisely, it can have a massive impact on your personal, social, and professional life. Keep reading to learn what your cosmetic dentist in Carrollton has to say about the potential behind a beautiful and confident smile.
What Constitutes an Attractive Smile?
Before learning about what a smile can do for you, it's good to know what characteristics your brain recognizes as attractiveness when looking at a smile:
White teeth without stains
Teeth without cracks or chips
Healthy gums that are not covering too much of the teeth or receding from them
No gaps or missing teeth
Straightness and jaw alignment
These are a few noticeable things that might stand out the most about a smile the first time you meet someone. Though they might seem small, they can have a huge impact on the overall look of your smile.
The Power Behind a Confident Smile
A beautiful smile is one you can be confident about, and this is what motivates you not to be afraid to flash those pearly whites. Here are some of the reasons why a confident smile can boost your self-esteem, help you advance in your career, and improve your overall quality of life.
Smiling Makes You Look Younger
The University of Missouri-Kansas (UMKC) conducted a poll amongst college students, by showing them random images of strangers. The majority perceived strangers who were smiling to be younger than their average age, vs. those frowning who were assumed to be older.
You'll Appear Thinner
In that same poll, students were asked which strangers looked heftier, and those who were smiling were presumed thinner than those who were frowning.
Chemicals in Your Brain Make You Feel Better
Smiling produces the same chemical in your brain when you smile as when you eat chocolate. This is because smiling forces your brain to reduce serotonin, which is responsible for sudden bursts of joy.
Your Mood Will Improve
As previously mentioned, smiling makes you happy, and it's hard to be in a bad mood when you're feeling good. Go ahead and try it now!
It Communicates Amicability and Competence
Smiling is the universal way to communicate approval of others. When people feel accepted and appreciated, they want to be around the source. Research has also shown that you're more likely to land a job or promotion when you smile, because it makes you look more willing to put in the hard work.
You Will Likely Live Longer
Plenty of research has proven it, but it doesn't take a scientist to know that happy people ae genuinely healthier, which leads to a longer lifespan.
Smiling is contagious.
You can think of smiling as a superpower, and who wouldn't want to share the magic with others? The next time to walk into a room, flash a smile and see how many people smile back!
Give yourself and others the gift of a more fulfilled life with a confident smile. Talk to your dentist about what you can do to enhance yours.
About the Practice
Dr. Tammy Ton believes that the best way to help her patients live happy and fulfilled lives is to give them the gift of healthy and beautiful smiles. Her commitment to lifelong learning through continuing education has given her the tools she needs to provide the highest quality of care. Are you ready to get your smile in tip-top shape? Request an appointment online or call (972) 698-5988.