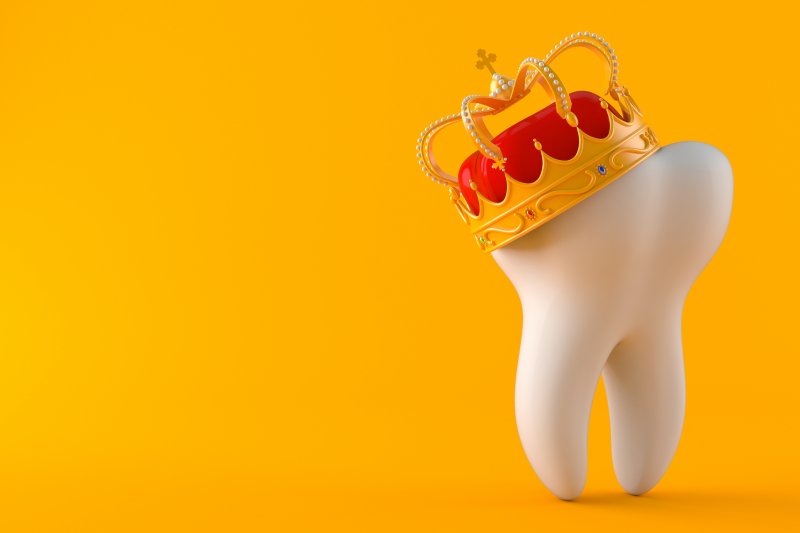 Dental crowns in Carrollton are primarily used in order to protect damaged teeth from becoming harmed any further. Since they are hollow on the inside, they are able to tightly fit over the compromised tooth. Even though they last a long time, they aren't made to be in your mouth forever. Continue reading to learn more from your dentist in Carrollton about the different benefits of dental crowns and what you can do to make them last longer.
Dental Crown Benefits
Crowns are a great option when it comes to preserving the integrity of damaged teeth. Here are a few of the many benefits they have.
Relieve Pain: If your damaged tooth is painful or uncomfortable when it is exposed to extreme temperatures or pressure, a dental crown is ideal for reducing this. They can also relieve sensitivity.
Appearance: Crowns can improve the appearance of your smile by correcting discoloration, staining, chips, misshapen teeth, and more. They are customized to be the exact size, shape, and color needed to blend in with the rest of your smile.
Minimally Invasive Procedure: Having a dental crown placed can be done in just a few weeks and is a relatively simple and painless procedure.
How Long Do Dental Crowns Last?
For most people, a dental crown can last anywhere from 5 to 15 years. However, this depends on a variety of different factors. They include lifestyle choices, oral hygiene, bad habits, and where the crown is located. It is natural for your crown to become worn over time, and this can happen a lot faster if you aren't taking care of it properly. Crowns that are well-maintained can last upwards of 25 years as long as the supporting tooth remains healthy.
How Do You Get the Most Out of a Dental Crown?
In order to give your crown a better chance at lasting for a long time, take the following steps:
Excellent Oral Hygiene: Brush your teeth twice and floss at least once every single day. When you remove food debris, plaque, and bacteria from your teeth, you are keeping your underlying tooth from harm.
Eliminate Bad Habits: Don't be munching on ice, chewing pens, or biting your nails. These habits put your crown at risk.
Fight Back Against Bruxism: If you have a tendency to grind or clench your teeth at night, you could end up damaging your crown or natural teeth. Ask your dentist about possible solutions.
See Your Dentist: By heading to the dental office regularly for checkups, they can confirm that your crown is still looking good.
With proper care, your dental crown can last quite a while. By using the steps listed above, you can benefit from your restoration for many years to come!
About the Author
Dr. Tammy Ton earned her Doctor of Dental Surgery from Marquette University School of Dentistry and regularly attends continuing education courses to keep her knowledge and skills sharp. Currently, she is a member of the American Dental Association, Dallas County Dental Society, and the Texas Dental Association. For more information on dental crowns or to schedule an appointment, visit her website or call (972) 698-5988.