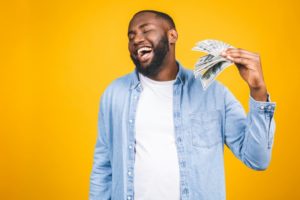 You walk into a car dealership with your perfect car in mind. After a bit of searching, you find it and decide to move forward with the purchase, knowing that this new monthly payment fits within your budget. No one expects you to pay up front for a car in cash—it's a long-term investment after all! So you apply for financing. Wouldn't it be nice to have a similar system for other purchases in life?
When it comes to your appearance, your smile can be a powerful asset or a formidable hinderance. You may want or need to take care of flaws in your teeth, but paying for the procedure all at once may be more than you can handle financially. Fortunately, you have CareCredit for cosmetic dental treatment.
How CareCredit Works
CareCredit is a third-party financing company that helps patients with medical and dental healthcare expenses, including cosmetic procedures. Instead of having to pay for treatment all at once, patients who take advantage of CareCredit can break up the overall cost into smaller, more manageable monthly payments. What's the best part about CareCredit? Those who qualify can enjoy a low- or even no-interest rate! That could equate to hundreds of dollars saved on interest.
Procedures That Can Improve Your Smile
With the ability to divide the cost of cosmetic dental work, even cosmetic dental work becomes much more affordable. Here are some examples of the kinds of treatments that you could choose to give your smile and your confidence a boost in the right direction.
Porcelain Veneers
If your teeth have basically any cosmetic flaw, veneers can cover them up. Small, gapped, discolored, cracked, or slightly misaligned teeth can be corrected with natural-looking ceramic veneers that last up to two decades!
Cosmetic Bonding
As a more affordable alternative to veneers, cosmetic bonding is a great way to handle the same flaws at a lower cost. Using composite resin, your dentist can fill in gaps and cover discoloration and many other imperfections that hold you back from smiling. Plus, this treatment can be completed in just one appointment.
Metal-Free Restorations
Whether you have a cavity or you simply want a more appealing appearance, dental restorations don't need to include metals anymore. With porcelain and composite resin, restorations can look like real enamel so no one will be able to tell which teeth are real and which are restored.
Teeth Whitening
A change as simple as the coloration of your teeth can have a huge impact on your appearance. Whether you opt for in-office treatment or take-home kits, you can remove years of food and drink stains from your teeth and have a brighter smile within two weeks.
Revamping your smile doesn't have to break the bank. CareCredit makes it easy to fit cosmetic dental work into your lifestyle. You don't have to put off getting the smile of your dreams—get started today!
About the Author
Dr. Tammy Ton finds great satisfaction in providing the kind of smile improvements that build their confidence. She earned her dental degree from the Marquette University School of Dentistry and continues to pursue advanced training to improve her skills and clinical prowess. Her team can gladly help you apply for CareCredit financing to make your treatment more affordable. If you would like to schedule an appointment with Dr. Ton, you can contact her practice LuxSmile Family Dentistry in Carrollton through the website or by calling 972-698-5988.